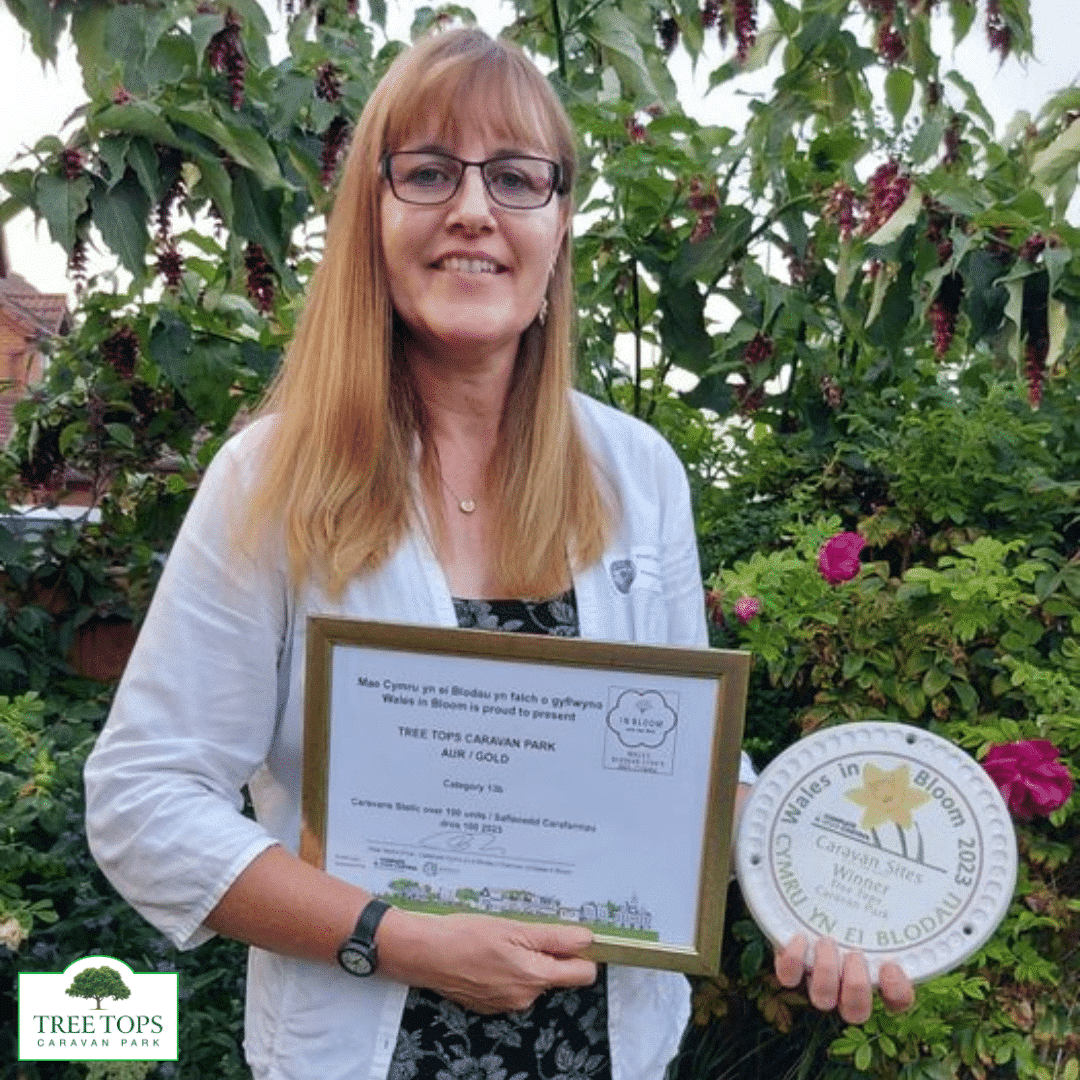 21 Sep

Tree Tops Caravan Park celebrate 30th Wales in Bloom win!
Tree Tops Caravan Park celebrate 30th
Wales in Bloom win!
The 2023 Wales in Bloom awards were held on 8th September and saw Tree Tops Caravan Park gain our 30th win in our category!
Our Head Gardener, Hazel, and her brilliant team do an amazing job. They work so hard to keep the park looking beautiful all year round!
They're always looking for ways to improve the gardens and keep them fresh. Each year they add new features and thousands of plants to the gardens.
It's much more than plants and flowers though!
In the park we have a Japanese garden bordered by wildflowers, a sensory garden, and two narrow streams. And lots of pollinator-friendly plants to attract bees, butterflies and other important wildlife. 🦋
Several benches are perfectly positioned around the park to sit and relax while admiring the stunning scenery and views.
🌺 Most of our plants are grown on-site from plugs, seeds, and cuttings. So, we know they're always strong, healthy plants. And, as an extra bonus, it cuts down on transport!
The team work so hard all year to ensure the gardens are the best they can be. Not only for our brilliant Tree Toppers but also the wonderful wildlife we're so lucky to have on the park! 🐿️
So, another award is a fantastic way to give the amazing gardening team the credit they so deserve! 🏆
The team consists of John, Peter, Dave, Derek, Chris, Gareth, Daniel, Sam and Jayne.
Tree Tops Caravan Parks' owners, Maureen, Harry, and Andy Walker send a MASSIVE thank you 🙏 and congratulations to Hazel and her team for another year's hard work, dedication and recognition.
     Some of the judges' comments:

               "Numerous new projects."

               "Commitment to customer experience and nature conservation."

               "Hazel, along with her gardening team, are thriving on the opportunity to be creative and are developing the grounds to its maximum potential."
Sensory garden
Stunning views
Peace and tranquility
Full of features
An array of colour
Sit and admire the scenery
If you're looking for a fabulous holiday home in beautiful North Wales, take a look at our website.
We have a range of stunning new and pre-owned caravans and lodges for sale.
If you have any questions or would like to arrange a viewing, please get in touch.
Don't forget to follow us on Facebook and Instagram to stay up-to-date!